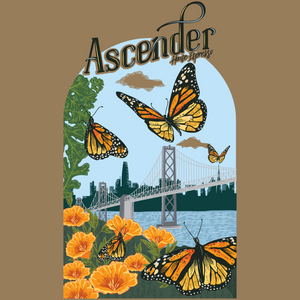 Ascender House Espresso
Ascend into your day with this deliciously smooth morning coffee. Developed for our house espresso, this blend of coffees is sourced from Central America and Africa. 
From South America, the coffee producers maintain a sustainable ecosystem with carefully implemented regenerative systems with an emphasis on inspiring a passion for 'high-quality coffee, for the consumer, society, and environment,' in the next generation of coffee producers.
Mount Elgon is a massive peak located on the border of Uganda and Kenya, it is home to a dense patchwork of farming communities that take pride in growing some of the best organic coffees in Africa. The Uganda Sipi Falls found in this Ascender blend is testament to that. In addition to being Organic and RainForest Alliance Certified, this coffee with its clean cup and milk chocolate flavor notes was processed in Africa's first certified organic wet mill.  
This Medium Roast is marked by balanced acidity with a full body and flavor notes of Cinnamon, Ginger Spice, Dark Chocolate, and Candied Orange. Ascender is perfect in a portafilter but we also love it just as much when brewed for sipping from a mug. "Espresso" is just one way to enjoy coffee, so go ahead and try these beans in the method of your choice. We promise you'll love it any way you choose to brew!
For Local-Pickup check out our Square store!