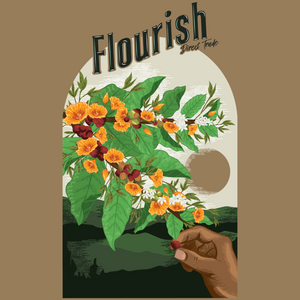 Flourish Direct Trade
Flourish celebrates communities and the dedication needed to produce quality coffee while maintaining a regenerative relationship with local ecosystems. Producing coffee is challenging environmentally, economically, and socially. The journey coffee takes from seed to cup often cuts the producers out of their own profit margins. 
In Peru, producers typically cultivate coffee on just a few acres of land intercropped with shade trees, bananas, corn, and beans. They carefully harvest and sort cherries before depulping, fermenting, washing, and drying the coffee using their own micro-mills. 
While producers design farm management and post-harvest solutions to fit their needs, they also need a strong alliance to bring their coffee to the international market and earn fair prices. After recognizing that producers in Peru's Lacco Valley, part of the historic Yanatile/Cusco producing zone, were outnumbered by predatory local buyers and with no direct market access, Café Orígenes was created.
Café Orígenes is in its second year of business and currently represents about 60 farmers in the Yanatile region. In addition to marketing and exportation Café Orígenes also invests in farmer soil fertility and farm resistance to disease, conducts quality control and lot building to maximize differentiation for farmers, and offers full price transparency to their buyers: the 20 contributing farmers to this coffee were paid the equivalent of $2.79/lb for green, exportable coffee. 100% of profits are reinvested in the organization to expand farmer access to their services. 
Coupled with the help of a local NGO, Andean Alliance for Sustainable Development (AASD), price transparency enables coffee farmers to receive a bonus payment based on the sale price of their coffee, which is distributed directly to them and their communities.  
The purchase of this coffee encourages more producers to join Café Orígenes and enjoy a more sustainable and equitable return on their harvests. Moving forward the organization is working to help farmers obtain the oftentimes very expensive organic certifications needed to verify their organic practices.
For Local-Pickup check out our Square store!