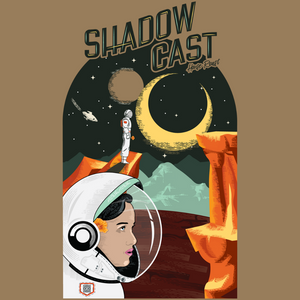 Shadow Cast House Roast
Developed by our Roaster to create a cup that "tastes like coffee should", Shadow Cast is roasted a little darker so that your last sip is just as smooth as the first.

Our Shadow Cast house roast has a heavy body and smooth, gentle acidity. With flavor notes of Milk Chocolate, Caramel and Cream. Shadow Cast is a natural processed coffee grown on 3 farms: Fazenda Teixeira, Fazenda Santa Maria, and Fazenda California.

Marcelo Valdevino da Luz, better known as Marcelo Teixeira, operates Fazenda Teixeira, worked construction in Japan during the 1990s to raise enough money to rebuild his family farm and small coffee shop. After 15 years he was finally able to realize his dream and work on mechanizing and modernizing his farm to produce quality, specialty coffee.

Fazenda California is run by Luiz and Flavia Saldanha. This husband and wife duo operate their farm with the mission: 'high-quality coffee, for the consumer, society, and environment". Their backgrounds in agronomy and insatiable appetites for knowledge means they are constantly changing and innovating to improve quality and production on the farm. Every detail is carefully considered to create the finest quality coffee possible. Zocalo Coffee has purchased coffee grown by Fazenda California since 2021.

Brothers Jose & Pedro and their nephew Daniel, operate Fazenda Santa Maria, which has been owned and managed by members of the Ribeiro family for generations. Fazenda Santa Maria, also home to livestock and cattle, creates its own natural fertilizers in order to enrich and fortify their soil. This regenerative and natural rich, biodiverse soil content maximizes their coffee production and quality.

These 3 family-owned farms produce coffee in conjunction with Capricornio Coffee Company in the state of São Paulo, Brazil.

When partnering with the Capricornio agronomy and leadership teams, producers have access to shared knowledge on new cultivation techniques, coffee plant care, soil management, agricultural practices, residuals disposer, irrigation and water conservation. Capricornio is heavily revered and renowned for their experimental fermentation practices and is leading the way when it comes to leading by action and example. For Capricornio Coffees, sustainability is essential. In the pursuit of achieving and promoting sustainability, they only work with coffees that are grown in equal compliance with ecological, social and economic standards, thus providing the coffee farmers and their families with a permanent livelihood.

Never bitter, Shadow Cast pairs just as perfectly with your workday as it does with your weekend brunch. Start your morning with a fantastic coffee we know will cast away yesterday's shadow and help make today brighter.

For Local-Pickup check out our Square store!